Ch. Chelsea The Crown Jewel, HIC

August 16, 2000- July 5, 2014
CERF#-CO-1546/2001--12 
OFA Number CO-2187E28F-PI
DNA PROFILE # V167062
Non carrier for Canine Cyclic Neutropenia (cleared by Parentage)
Rod-Cone Dysplasia Type 2 (PRA) - non-carrier (cleared by Parentage)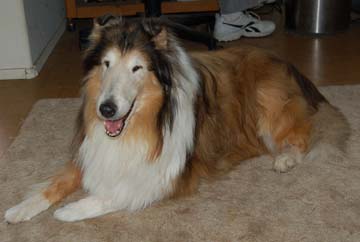 Wendy pictured at 12.5 years old.
Missing sweet Wendy........We lost Wendy 5 weeks shy of her 14th birthday! Her little legs just gave out. She was an amazing dog, smart as they come. Fortunately I have her three great granddaughters to carry on: Ch. Chelsea California Gold, CH. Chelsea Black Eyed Pea and Ch. Chelsea Twilight Time, VCD1 CD TDX AX  AXJ CGC. Read Wendy's story below about how smart she was in her younger days.
She finished her championship easily, in spite of never being in coat during the spring or winter. Pointed at 6 months, she finished by the age of 3 under some of the best....Joan Kefeli, Evelyn Honig, George Horn and Gwen Means.
She was normal eyed and descended multiple times from our first 2 foundation bitches acquired in 1972 and also descended multiple times from our first champion bitch, Ch. Chelsea Gold Mist (also normal eyed), who finished in 1976 with multiple specialty majors.
On April 27, 2002, Wendy passed her Herding Instinct Test with flying colors, under tester Linda Rorem! Loaded with personality, she is our official gate opener and counter surfer!
Wendy had one litter, consisting of one solo pup, DIVA. Ch. Chelsea Midsummer Classic, HIC completed her championship in 2006! Click HERE to see her page!
Wendy's great granddaughter, Ch. Chelsea California Gold had a litter in March 2016 and we kept a girl, Chelsea California Girl!

At 10 weeks old, looking like the angel she is not!

1 year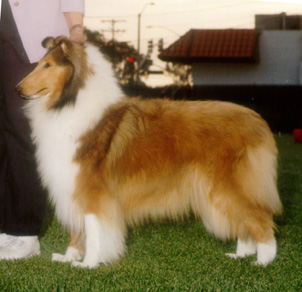 Wendy's finishing picture under George Horn at the South Bay Collie Fanciers! She finished her first weekend out in 2003. Always in beautiful coat during the summer, she is shown in early spring just coming into coat. Owner handled for 4 points to finish!!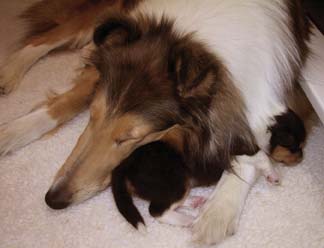 Wendy, the perfect Mom, is shown with her 5-day old baby!
A little about Wendy - a Collie that truly combines beauty and brains! This one is like a little person trapped in a dog's body!
She is probably the most intelligent Collie I have owned. People that think the brains have been bred out of Collies, need to meet Wendy! There's only one kind of gate she cannot open (the drop-in-the-hole kind!). She started her gate opening when she was about 5 months old. I thought either I was getting really forgetful or my husband was. Finally onetime I caught her in the act when I went through a gate. Shutting it behind me, she opened it and followed me right through! Cute as it is, at times it can be a real pain. During our remodeling in 2003, I lost count of the number of times she opened the gates, including the one going to the front yard. There's nothing like that sinking feeling when one looks out back and there's no dogs. Fortunately we did not live on a busy street. Recently we moved to a place with lots of gates which makes living with her even trickier because there are so many more avenues to get out!
She also can open certain doors, which forced us to buy a heavy security screen door for the front. If this wasn't enough, she is also a food thief and has been caught opening the bottom drawer in the kitchen, so she could stand in it and reach the back of the kitchen counter. One time she stole my husband's entire dinner which included two pork chops! Another time she lifted a corn cob and ate the whole thing. To my knowledge, she never passed it! Another time, she ate a cube of butter! Fortunately she has a cast iron stomach, but now she lives in the bedroom until our meals are finished!
Click HERE to see her daughter, Ch. Chelsea Midsummer Classic, all grown up
Click Here to see Wendy's pedigree

---
Three of Wendy's littermates were also pointed from the puppy classes and all have gone on to finish their championship: Visit their webpage by clicking HERE!
"Bogart" is now Ch. Chelsea T' Crown Heir of Squire, HIC, owned by Tim & Marilyn Mothersell of Squire Collies
"Kerry" is now Ch. Chelsea Elegan Crown Princess, HIC, owned by Janet Hitt and David Hitt
"Cailean" is now Ch. Chelsea T' Crown Regent of Squire, HIC, owned by Tim & Marilyn Mothersell of Squire Collies.
---
Back To Our Current Dogs
Or VISIT
CAILEAN'S PAGE
| CAMILLE'S PAGE | BUDDY'S PAGE | GARBO'S PAGE
BOGART'S PAGE
| BETSY'S PAGE | DIVA'S PAGE | GRETA'S PAGE | NATASHA'S PAGE

Back to Chelsea Collies Home Page
Foundations
| Contributors | Champions | Our Current Dogs | Collie Information
Collie Collectibles
| Lassie | CCA | Collie History | CCA Foundation | Books
---
If you would like more information on Collies in general, click this HERE
---
Back to main page of Chelsea Collies