Collie Collectibles!

---

A sterling silver matchbox with a signed oil painting on ivory (1907)

---

An ivory Collie on base
My collection of Collie memorabilia started out innocently enough after the purchase of my first Collie in 1968. As stated many times previously (by others before me), I had no idea what I was getting into! Over the years it would lead to a major obsession.......Collie Collectibles....otherwise known as the fine art of collecting anything and everything that has a Collie in, on or about it! Without a doubt, the favorite part of my collection, are the books, magazines and artwork featuring the Collie...in other words anything pertaining to the early history of the breed. Since this is my first love (other than the actual dogs themselves), what better way to learn then through books and magazines and early pictures?
My Collie collecting started with books and paper in 1968. I have always been an avid reader, so right after getting my first collie, I purchased all available reading material on the Collie. When I ran out of current books and magazines, I began searching for anything out-of-print. Being from a long line of family collectors, it was easy to pursue this new avocation. I searched used book stores, went to Antique & Collectible shows, and hounded the older breeders. It has been my goal from the beginning to acquire one of everything in print, on the Collie. Slowly but surely, I am reaching that goal and after fifty years, I have amassed one of the most complete collections of material available on the Collie! The real gems are the very old, scarce breed books, the Collie Club of America Yearbooks and a long forgotten magazine called "The Collie Folio" (circa 1906). Recently I completed an entire set (132 issues) of "Collie Folio" magazines. I also have a lot of pictures and material on various old-time kennels. Unfortunately, so much material has either been discarded or thrown away over the years. I cringe when I think of the huge libraries and large amount of reading material that was owned by Mrs. Lunt of Alstead Collies and Florence Cummings of Arrowhill Collies (and many others) that has disappeared over the years. Mrs. Cummings had an entire room devoted to her huge collection of Collie books and bound magazines and only about one third of her collection has been found. My two best sources have been eBay and ABE books. Thanks to these two sources, I have recently found several really scarce breed books that eluded me all these years! Click here to see a copy of my "want list".
My next favorite amongst Collie collectibles is artwork. Due to my love of antiques, we frequented antique stores, shows and auctions.Plus my parents had an antique store for many years. Frequently we went to the Charles and Charles auctions in San Jose, CA during the 1960s and 70s. Frequently I saw antique doggy items for sale -- this included a wealth of Collie pieces. Collies are such an easy breed to collect, as there is so much available. They have been popular for so long, due to their charm and great beauty. Consequently they have made popular artist's models for all kinds of items over the years. Early on I couldn't afford original artwork, so I started purchasing old prints and lithographs. Collies are frequently found in old prints done by Arthur Elsley, Harrison Fisher, R.A. Fox and Fred Morgan, just to name a few. Many of these prints are becoming scarce in their older/original versions, but recently many are being reproduced as prints, postcards or greeting cards. I have tried to keep my collecting interests to the older original pieces. Along the way I developed a taste for original artwork and have been fortunate enough to acquire some gorgeous oils, pastels and etchings from some very famous canine artists, such as Howard Van Dyck, Marguerite Kirmse, F.T. Daws and others. Click here to see some of my Collie artwork.
Gradually I branched into other areas of collecting....with an emphasis on Figurines, postcards and useful items. Another favorite are Vienna Bronzes. While I do collect certain new items, my favorites will always remain the older, antique items. Collectible items can range from the whimsical to the fine art object! Some make for interesting conversation pieces. If a person is lucky and persistent, it can be easy to find figurines, statues, bookends, bronzes, plates, salt & pepper shakers, ink wells, paper weights, cigar-cutters, cigarette cases, pipe holders, jewelry, vases, magazine advertising & covers, postcards, cigarette cards, Stuffed animals, woodcarvings, toys, mechanical toys, oils, prints, etchings, tapestries, and ivory. The list could go on and on.......
Postcards can be an interesting collectible. Not only do they give a visual history of the breed either through real photos or an artist's rendition of the Collie, but many old time kennels in England and this country used postcards as a medium for advertising. Some of the most wonderful postcards are reproduced from beautiful oil paintings or drawings dating as far back as the late 1800's.
And there's Lassie, a favorite amongst many Collie Collectors.
Soon before you know it, your house is covered with Collie items from one end to the other, in every corner, nook and cranny. Very quickly you can run out of room. The only other limitation can be money, as serious collecting can lead you to the poor house very quickly......especially for some of the older quality pieces! Some items can be found very reasonably, while others can be costly. While some people are very generous and have given me some wonderful pieces, others can charge an arm and a leg! All in all, it has been great fun and an interesting hobby. It has been a nice sideline to collecting and breeding the "real" thing!!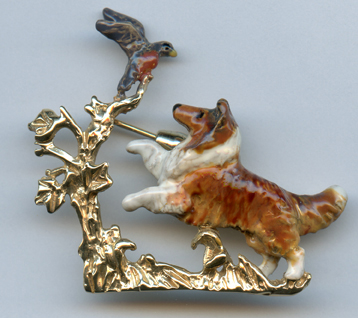 enamel 14k pin done by Virginia Gardener Perry

Antique Copper bracelet - pictures do not do it justice
---
Artwork
| Collie Books & Magazines | Figurines | Stuffed animals | Postcards | Lassie
---

A hand painted silver cigarette case from the turn of the century!
---
Back to Main Information page, with links
Return to the Home Page of Chelsea Collies