CH. Chelsea Charidan Carte Blanc, HIC, ROM
    Betsy at 3 months
    DAM of 7 ROUGH CHAMPIONS!
    (1997- 2011) 

    OFA Good #CO-1784G24F-T
    Normal Thyroid Through OFA Registry---CO-TH12/21f
    DNA Profile # V40013
    Normal/Non-carrier for Canine Cyclic Neutropenia
    Rod-Cone Dysplasia Type 2 (PRA) - normal non-carrier

CHIC # 76130

DMS Low risk AaBb

 
It was a very sad day here at Chelsea when I had to put Betsy to sleep on November 14, 2011, at 14.5 years old. Even though she was getting really old for a Collie, she had been doing well and was in wonderful condition for her age (mostly sleeping and eating). I miss her like crazy but she had a long, healthy & productive life. Thankfully she lives on through her many descendants currently residing here. She is the 3X great great grandmother of a litter whelped here in May 2012! Every dog currently residing here is a multiple descendent of this prolific bitch!
Thanks to Betsy I am a big believer in Serendipity. I wasn't hunting for a bitch when I first laid eyes on her, but sometimes things just come together through luck and/or being in the right place at the right time. I am so blessed to have had such a spectacular bitch in my life. Not only for her contribution to my breeding program, but just for being her...... for always being there for me and loving me unconditionally. I will miss her dearly.
---
The story of Betsy and how I came to own her..............
While judging a puppy match in the summer of 1997, I fell in love with a beautiful 10 week old tricolor bitch puppy, bred & shown by Dante EG Fangon of Charidan Collies. I am not ashamed to admit it was love at first sight! She was utterly scrumptious looking......she had a beautiful head, a beautiful face, a spectacular body and beautiful bone and coat. She would have gone 'Best In Match' but she was hating the sun and heat and was not behaving very well! Unfortunately the only picture I have of her from that match, she is hiding in Dante's shadow in her attempts to get out of the sun.
When the puppy match over, I was looking at the entire litter and talking with Dante. I remember looking at Betsy in the puppy pen and thinking how I would love to have this beautiful puppy. In truth, normally puppies like her are not for sale, so I was flabbergasted when he told me he was not keeping her. I would have expressed interest right then and there, but for two things.......I wasn't really looking for a bitch at that particular moment and he told me that he had several other breeders interested in her. I figured it was a lost cause. BUT I was trying my best to resist the temptation of grabbing her up right then and there.
In the weeks following the match, I couldn't stop thinking about her….. In retrospect, it is amazing how it all worked out, but sometimes things are just meant to be. Fortunately, for whatever reasons, the other breeders turned her down. When I timidly approached Dante about purchasing her, I couldn't believe my good fortune when he said it sounded like a good idea.
I could hardly wait to pick her up. Dante is Filipino and their custom is when company arrives, they make sure there is plenty of food for their guests. When I arrived there was a virtual feast awaiting. The food was absolutely delicious and very inviting.....but I really just wanted to get on the road before he changed his mind about selling her!! She was even more beautiful than she was at the puppy match and I couldn't believe he was letting her go! Most breeders would never sell a bitch like this! It is truly scary when I think of all I would have missed had everything not worked out perfectly. Though I didn't realize it at the time, I was in need of a new bitch and she fit in perfectly like she had always been here.
By the age of 2½ Betsy finished her championship with four majors, all owner handled. By the age of three she passed her HIC! However, the true reason I had wanted her was to incorporate her into my small family of Collies. When she was 3 years old, she was bred to her best buddy "Bailee" (Ch. Chelsea The Crown Prince). She whelped her first litter in August 2000. It would prove to be a match made in heaven! Thankfully she was a free and easy whelper and an absolutely fabulous mother! It was one of those times where one just sits back and relaxes! From that litter of six puppies, four went to show homes and all four finished their championships! They are: Ch. Chelsea The Crown Jewel, HIC, Ch. Chelsea Elegan Crown Princess, HIC, Ch. Chelsea T' Crown Heir of Squire, HIC, and Ch. Chelsea T' Crown Regent of Squire, HIC. Click HERE to see their pictures!
In 2001, I repeated the breeding and Betsy whelped a litter of 9 on June, Friday the 13th! Three of those puppies ended up being shown and again all three finished their championships! One of my all-time favorites is Ch. Chelsea Summer Blonde, HIC. Camille finished her championship at 16 months, with 4 majors and multiple Sweeps wins, but most importantly she proved a valuable addition to my breeding program. Another bitch, Ch. Chelsea Elegan Crowning Glory HIC, went to Janet Hitt and finished her championship with 3 majors. The third sister (owned by us), Ch. Chelsea Sunshine Girl, HIC, finished her championship in the Fall of 2007 with 3 specialty majors, all owner handled!! With SEVEN champions to her credit, Betsy qualified for the coveted "Register of Merit" title awarded by the Collie Club of America. Plus, in 2002, she tied for TOP PRODUCING ROUGH Dam
All of Betsy's champions were rough-coated and all won the hard way........at large Specialty shows under respected longtime Collie breeder judges! At several shows, they won all of the top winners placements!! Plus….more than pretty faces, all passed their HIC tests with flying colors!
Side note: I always knew I wanted to breed Betsy to Bailee. Their family backgrounds were similar, both tracing to a variety of closely bred Parader descendants through Tartanside and Arrowhill. Plus they greatly complemented one another. Betsy was a meat and potatoes bitch - very sound, with great substance, a nice head, great ears, great temperament and a good coat. And she was sound as a dollar! Bailee, had a beautiful long clean head, with beautiful muzzle, an elegant outline, great ears and beautiful coat. They proved to be a perfect match. Plus I liked the fact that Betsy's mother whelped her entire litter of nine, completely unassisted. When I reflect back, it continues to amaze me how lucky I was to get her. Bitches like her rarely come along. She almost single-handedly turned my breeding program around. Every breeder goes through periods where they need new blood. If a breeder sticks around long enough, it's going to happen. Betsy was like a shot in the arm and her strong influence continues to this day in my breeding program.
Betsy was a treasured house dog for her entire life. Not only was she was the perfect house dog and companion, but she was wonderful with everybody: people, kids and other dogs. She absolutely adored kids. I wouldn't have changed one single thing about her. And on the plus side, she was healthy her entire life. Her strong influence continues to this day in all her descendants currently residing here.
Not a day goes by that I don't think about her, but I feel incredibly blessed and amazingly fortunate to have had her if only for a short 14 years. My ONLY regret is that I was not her breeder! Even as I write this 6 years later, I still miss her like crazy..........
A picture of Betsy while still at Dante's house
Currently we have daughters, grand daughters, great grand kids and most recently great, great grand kids.
Click HERE to see the Tribute to Betsy in the April/May issue of Collie Expressions!
See Betsy's "Collies OnLine" ad
Continuing into the next generation, Betsy's granddaughters, Ch. Chelsea Midsummer Classic finished her championship in 2006 and Ch. Chelsea CoCo Chanel completed her championship in 2008 with four specialty majors! Her grandson Ch. Chelsea Major Obsession just completed his championship (March 2010) with a four point specialty major! Recently Betsy became a 3X great great grandmother!!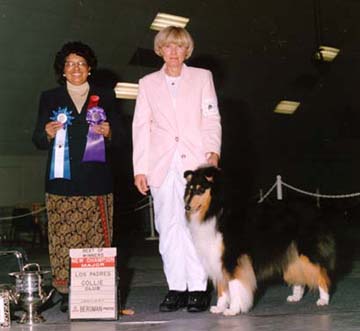 Betsy is pictured going Winners Bitch and Best of Winners under judge Gwen Means at the Los Padres Collie Club for a 4 point major, to finish her Championship!!! She finished with 4 majors and numerous specialty major reserves at the age of 2! Always Owner handled.
Sired by Arcadia's Red October ex Countryview Charidan Isolde
Bred by Dante EG Fangon of Charidan Collies

To see a copy of Betsy's pedigree, click here
---
Back To Our Current Dogs
Or VISIT
CAILEAN'S PAGE
| CAMILLE'S PAGE | BUDDY'S PAGE | GARBO'S PAGE
BOGART'S PAGE
| WENDY'S PAGE | DIVA'S PAGE | GRETA'S PAGE | NATASHA'S PAGE

Back to Chelsea Collies Home Page