"Gabi"
Gabi recently completed her Master Standard Preferred Agility (MXP) and her trick Dog Title!!
Health clearances:
OFA Good hips
Normal Elbows
Low risk DMS
Mutant/Mutant MDR1
PRA clear
---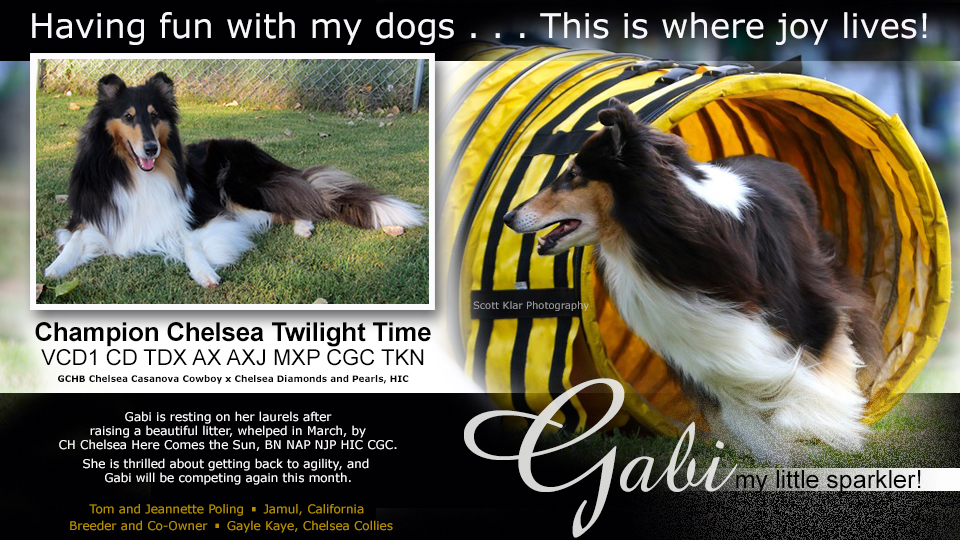 Gabi's recent Collies Online ad!
Congratulations to Gabi on her litter of two precious sable girls!! Chelsea Kissed by The Sun, HIC and Ch. Chelsea Good Morning Sunshine, HIC!! They are co-owned and co-bred with Tom & Jeannette Poling!! Her daughter, Ch. Chelsea Good Morning Sunshine just fiished her Championship!!!!!!!
Gabi's beautiful Collie Expressions' cover picture!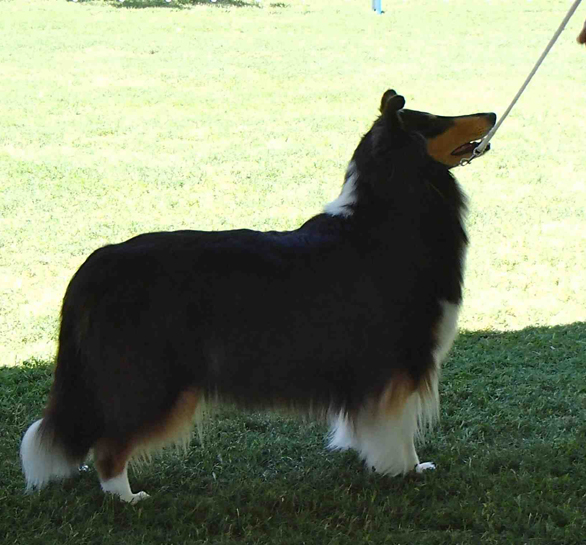 Following a three year absence from the show ring because of competing at performance events, Gabi quickly finished her championship!!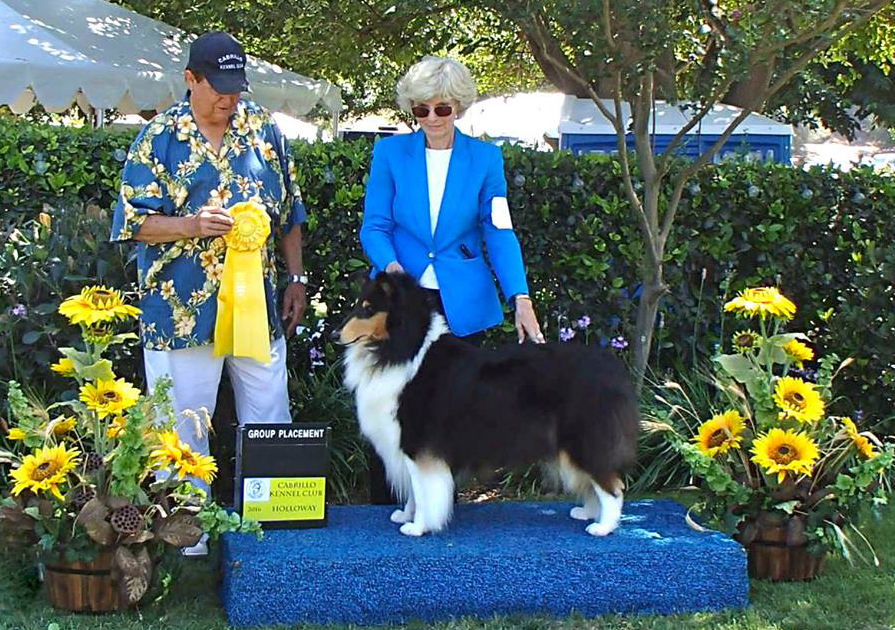 Gabi's photo taken at the Cabrillo Kennel Club show July 2016, where she received a Herding Group 3rd from the classes.
Gabi's 2015 Beautiful CCA Yearbook ad!!
Gabi's picture taken at the Santa Ana Kennel Club show where she went WB, BW and BOV (over a special) under judge Amy Gau! What a nice win!! We went onto a third placement in the Owner Handler's group also under Amy! I love this picture of Gabi showing her beautiful balance and coat! She is so much fun to show, very attentive!
Taken in the Herding group at the Santa Ana show!
Congratulations Gabi on winning your first conformation points!! Gabi hadn't been in the conformation ring in more than 3 years. Her last time in the ring was in 2012 when she was in the 9-12 class and won a Best Puppy and a Major reserve at a specialty!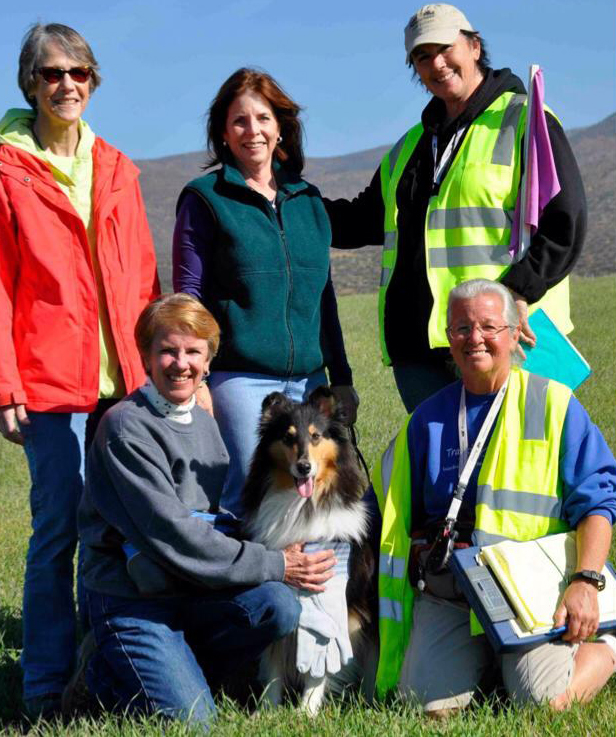 The amazing GABI just keeps getting more and more amazing!! She just completed her TDX!! GABI, is pictured above with her wonderful friend, trainer and handler, Linda Sanders. Also pictured with the two judges, the track setter and owner Jeannette Poling (in green). Three-year-old Gabi earned her Tracking Dog Excellent title (TDX) under clear sunny skies on the federal wild lands right next to the Mexican border. Her track was 925 yards long, with 5 turns and she crossed a dirt road 3 times. GABI completed her track, finding her articles: a scarf, a pot holder, a hat and the final glove in NINE minutes, yes just 9 minutes ---she was flying and Linda was running over the uneven grassy fields at the end of her line! The allotted time for this event is 75 minutes and Gabi did it in 9!!!! Congratulations to everyone involved!!!!! She looks so proud of herself!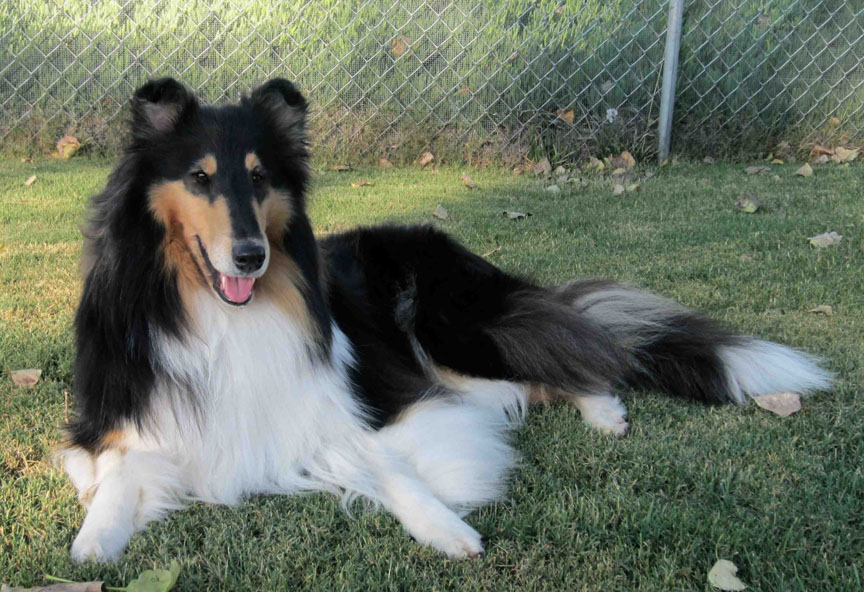 Gabi is pictured as her birthday approaches. She will be 3 years old on September 2, 2014! She is not resting on her laurels! Gabi earned a 2nd place in Excellent Standard agility on 8-30-2014 for her 1st AX leg.
See her recent Collies Online ad below!
CONGRATULATIONS GABI & JEANNETTE........Gabi earned her CD (Companion Dog title) in three consecutive shows with three First Place awards with scores of 196, 193 and 193. Gabi is a steady partner who focuses on her job with a bit of flash, and a lot of sparkle thrown in!! Earning her CD also gives her the AKC's prestigious "Versatile Companion Dog Level 1" title, or VCD1, because she has earned titles in three performance venues: obedience, tracking and agility --- quite an achievement, especially since Gabrielle is just two years old, and she has only been in training since February 2013. What a wonderful partner she is, always willing to try, always willing to learn the next part, always wanting to please!!! We are very proud of Gabi!
Gabi and Jeannette!
Gabi is more than a pretty face! Congratulations Gabi on earning your Tracking Title. She got her title the first time out!! Previously she earned her "Beginning Novice" Obedience title with a score of 195.5 and 1st Place. She earned this title in 3 consecutive trials with two 2nd places and a 1st place. Recently Gabi has acquired a novice agility title! Owned by Jeannette & Tom Poling. Jeannette has plans for lots more fun with obedience competitions, tracking, agility and of course, conformation! The only time Gabi was shown in conformation, she took a major specialty reserve and Best Puppy in show!! Thank you Jeannette for all you are doing with her.
Gabi at 6 months
Ringside shot when she won a major reserve
Major specialty reserve and Best Puppy her only time shown
Gabi pictured with her trainer, getting her Tracking title on her first attempt!
Gabi, pictured with her owner Jeannette Poling, earning her Beginning Novice Obedience title!
Gabi is a granddaughter of two of my favorite bitches, Ch. Chelsea CoCo Chanel and Ch. Chelsea Midsummer Classic...thus making her a double great granddaughter of Ch. Chelsea Summer Blonde and a great granddaughter of Ch. Chelsea The Crown Jewel. She also traces nine times to our first champion whelped in 1973.......Ch. Chelsea Gold Mist. And she is a triple great great grand daughter of Ch. Chelsea Charidan Carte Blanc, ROM. Going even further back, she is two times Ch. Chelsea Shadowgold and six times, Ch. Chelsea Ice Castles.