GCH. CHELSEA MR. GQ, HIC
"Regis"
Whelped 9-2-18
HEALTH CLEARANCES:
Low risk DMS - aaBb
OFA preliminary Hip - Excellent
OFA - Normal Thyroid
Advanced Cardiac OFA - Normal (CO-ACA23/13M-VPI)
Mutant/Mutant MDR1
PRA clear by parentage
---
Regis finished his GRAND CHAMPIONSHIP by going Best Opposite Sex to Best of Breed under longtime Collie breeder/judge, Phyllis Autrey, at the California Collie Clan afternoon show!! He did it in just a little over a month of showing!

Latest Collies Online ad

Pictured going Best Opposite Sex to Best of Breed under Judy Bryant!
NEWS FLASH..........
Regis finishes his championship in style with a 5 point major under judge Shelley Roos! Beautifully handled by Jessica Wittman and Jennifer Tenneson.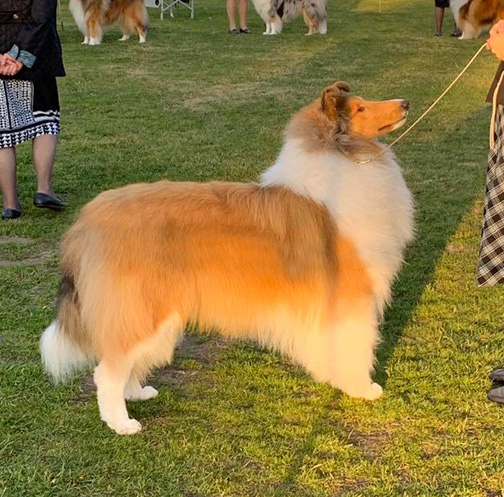 The next day I moved him up to "Best of Variety" and he won "Select" dog in a beautiful lineup!! He now has a 5 point major towards his Grand Championship!
Regis is pictured going Winners Dog and Best of Winners under Collie breeder/judge Laura Weiss for a 4 point major at the San Gabriel Valley Collie Club show! He now has 12 points and just needs a major to finish!!
Pictured at 11 months!
FLASH....... Regis just went Winners Dog and Best of Variety (over 4 specials) under judge Nioma Coen at the beautiful Santa Barbara Kennel club show
Regis pictured at 8 weeks
As usual, we didn't plan the litter looking for a boy. But it's kind of hard when the obvious pick is a big sable male. We knew early on, he wouldn't be going anywhere but here!
6 months
His first show at 6 months at the Beverly Hills Kennel Club
At 8 months he won his first points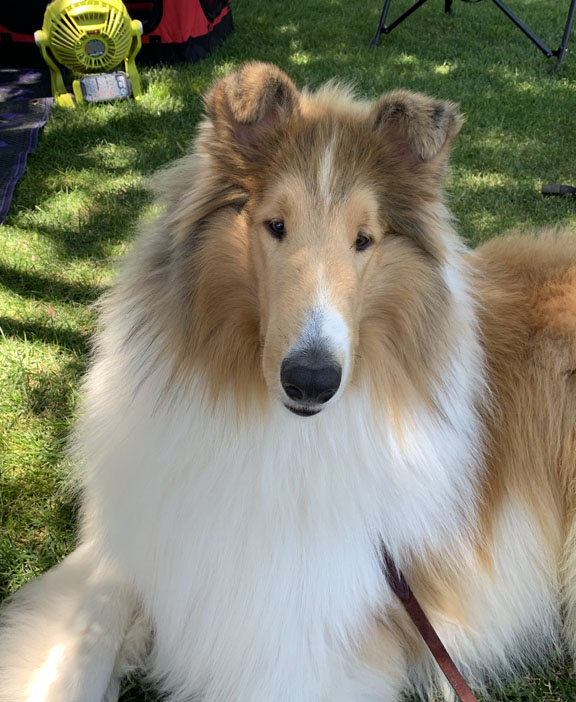 9 months
Click here for Regis' Pedigree
---
Back To Our Current Dogs
Or VISIT
CAILEAN'S PAGE
| BETSY'S PAGE | BUDDY'S PAGE | GARBO'S PAGE
BOGART'S PAGE
| WENDY'S PAGE | DIVA'S PAGE | GRETA'S PAGE | NATASHA'S PAGE

Back to Chelsea Collies Home Page