"Rory"
HEALTH TESTS
DMS - low risk Aabb
Advanced Cardiac OFA - Normal (CO-ACA24/38M-VPI)
PRA clear
MDR1-M/M
Coat color test: C128A - Pure for sable
OFA GOOD hips
OFA Normal elbows
eye check - mild CRC
Co-owned with Tom & Jeannette Poling
---
See Rory on the next cover of COLLIE EXPRESSIONS magazine. The timing is perfect because Rory just finished his Grand Championship!! Shown only at a limited number of specialty shows!!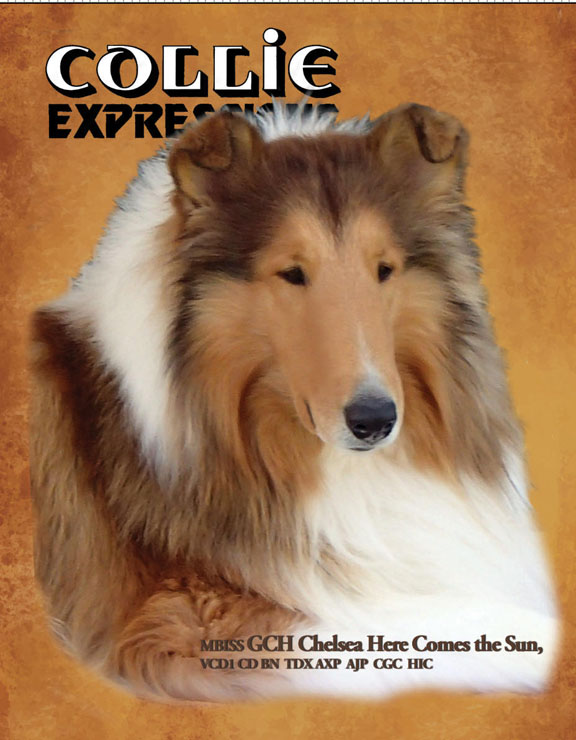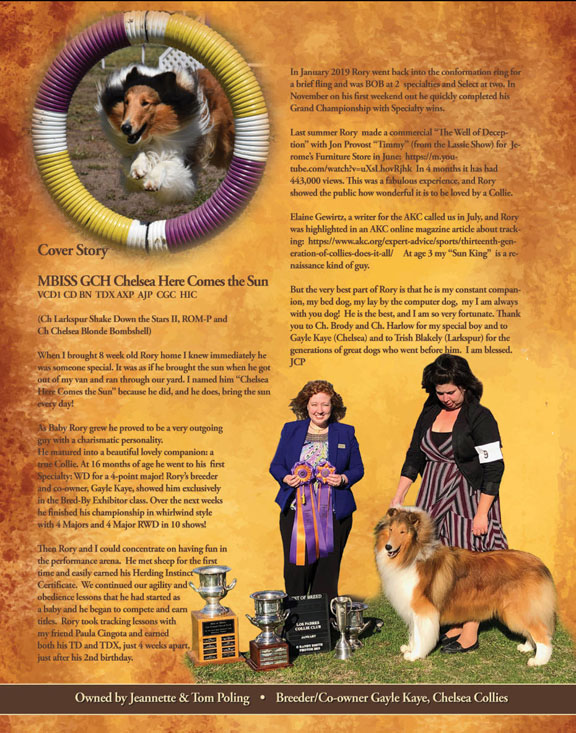 Rory is the star along with Jon Provost of a brand new Jerome's Furniture commercial. It is fabulous!! Rory had never done a commercial before, but he did a wonderful job!!!
WE ARE SUPER PROUD OF RORY'S LATEST ACCOMPLISHMENT.......
Pictured in summer 2019
Three weeks ago Rory joined a group of elite performances dogs ... the AKC awarded him this additional title: the "Versatile Companion Title" or VCD1.
From the AKC: "The Versatile Companion Dog" titles or VCD are titles that are designed to acknowledge and reward owners of all breeds that compete in Obedience, Agility and Tracking events. The VCD titles are a way to showcase their tremendous talent in so many areas."
Earning his CD on June 16th gave Rory the AKC's prestigious VCD1, because he has earned titles in three performance venues: obedience(CD), tracking (TD), and agility (NAP and NJP) --- quite an achievement, especially since Rory won't be 3 years old until August. And he has already earned advanced titles in tracking (TDX) and agility (AXP and OJP).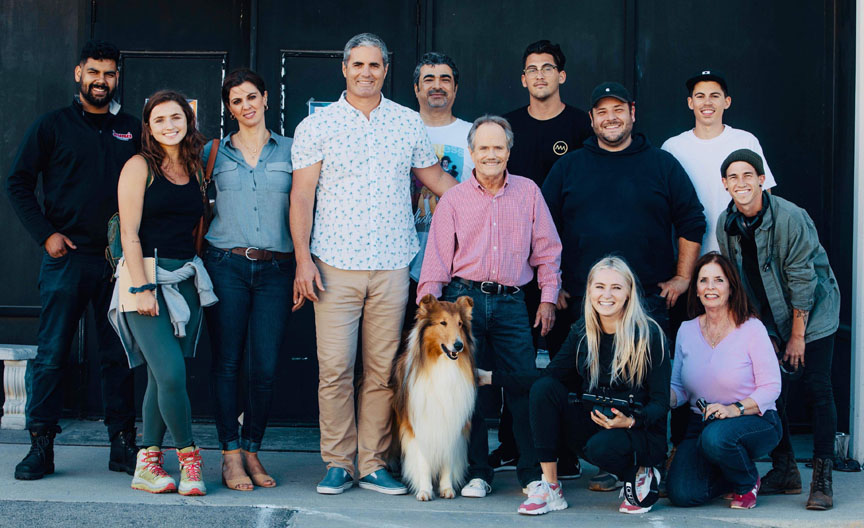 Rory doing a Jerome's Furniture commercial with Jon Provost!! Summer 2019

Rory has excelled in all venues. This past weekend he earned his CD title, in 3 consecutive trials, with three 1st places (196, 195.5, 193).
Rory had a spectacular spring!!!
Congratulations to Rory on earning his "Tracking Dog" title!
NEW CHAMPION! CHELSEA HERE COMES THE SUN
Rory had a whirlwind show career. He finished at the San Diego Collie Club show with a 5 point "Best of Winners" under Collie judge Hildy Morgan (pictured above)!! He finished with 4 specialty majors and was shown in the Bred By class the entire way!!! Always in the ribbons, he was shown at a total of 10 specialty shows and won winners at 4 and reserve at 4 shows.....at 18 months old!!
Congratulations Rory on siring your first litter and your first champion!
Chelsea Kissed By The Sun, HIC & Ch. Chelsea Good Morning Sunshine, HIC!
On April 14th, Rory completed his Herding Instinct test!
Rory earned his first 2 agility titles before his 2nd birthday. He is jumping through the tire in Open competition.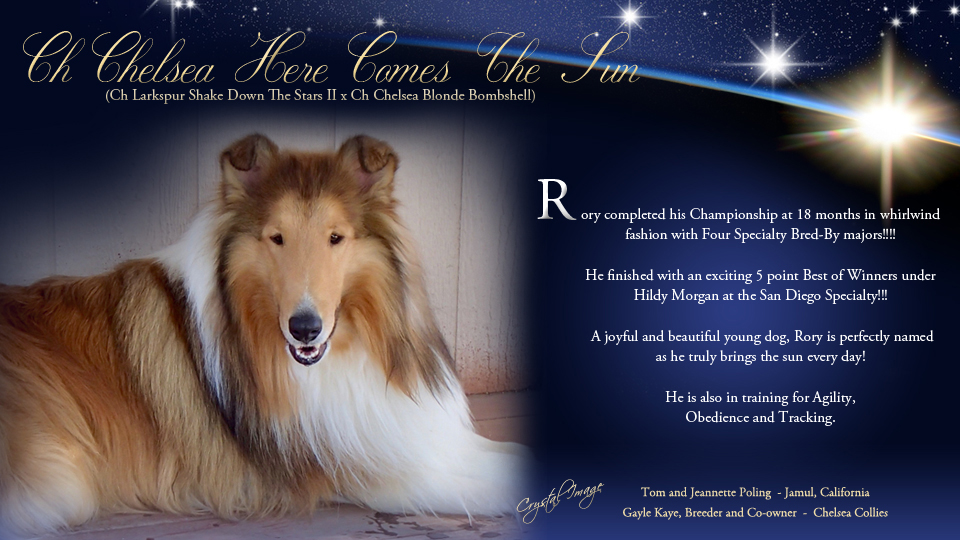 Most recent "Collies Online" ad!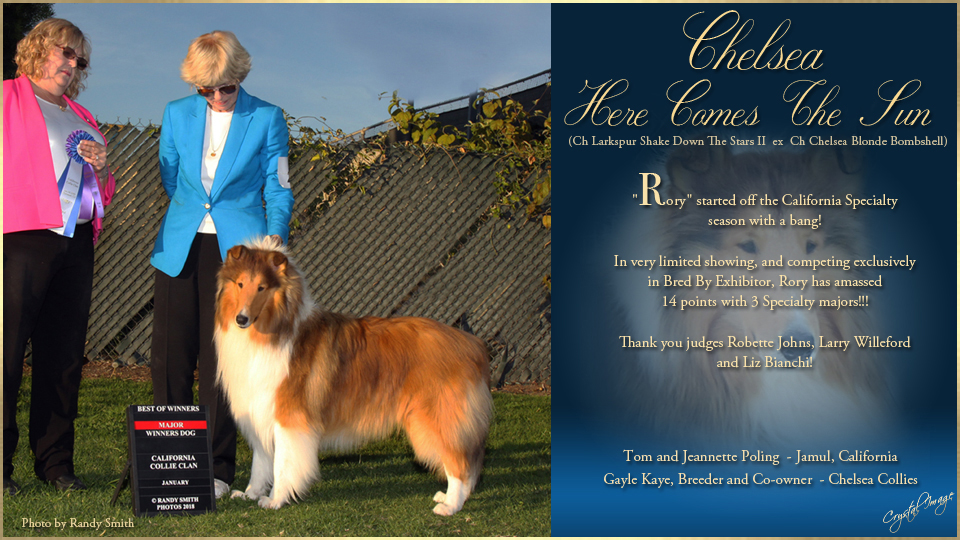 Collies Online ad from February 2018!
In December Rory went to his first specialty shows where he won a 4 point major and two reserves! In January he followed up with two more 4 point specialty wins and two more reserves!!!
Rory is also in training for obedience, agility and tracking!!
In June of 2016 we had chilled semen flown in from Mississippi.
Two precious boys resulted....Rory and Andre!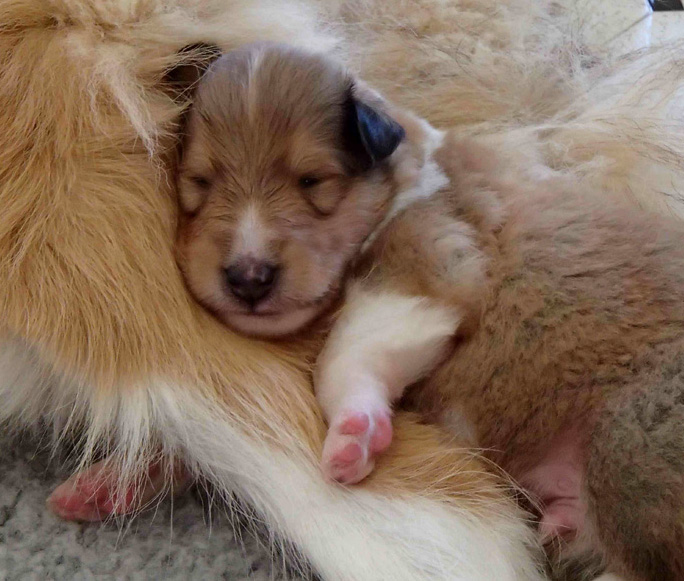 Rory pictured at 3 weeks!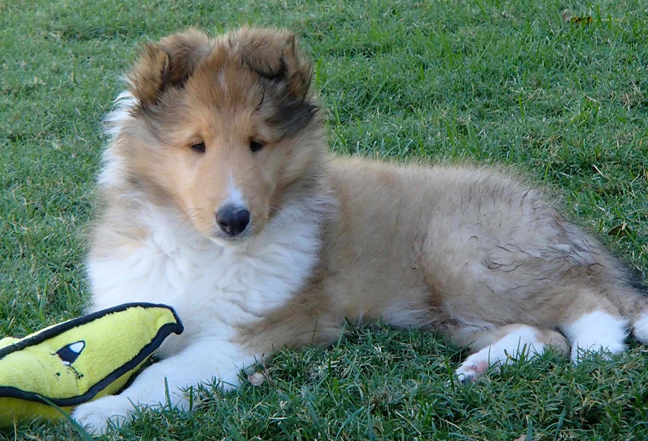 Rory went to live with Tom & Jeannette Poling at 9 weeks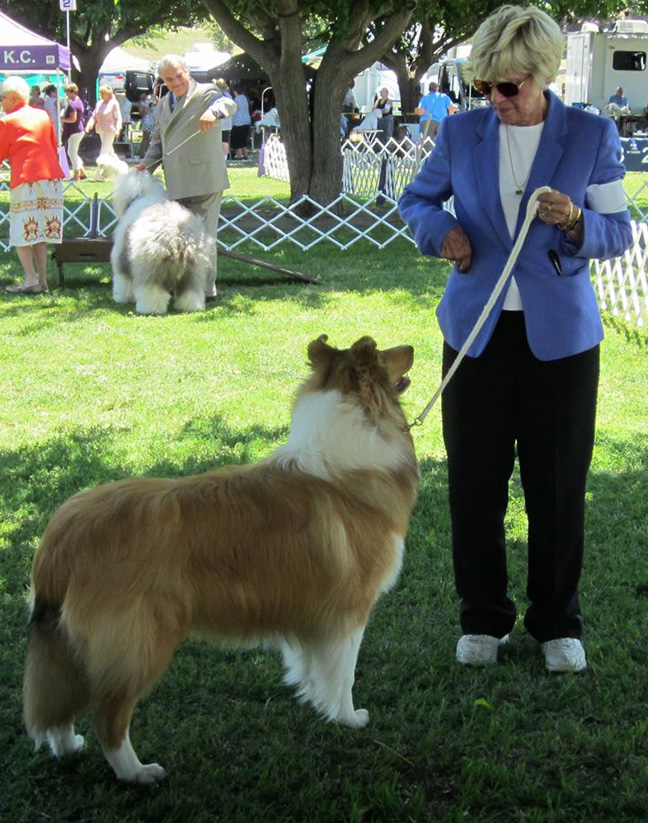 In May and June of 2017, Rory went to two all-breed shows and won both! He beat a special for his first point at the Mt Palomar show and went onto an Owner handler Group 2nd!!