Collie Artwork

---
Due to his great beauty, the Collie has been a popular artist's model for well over 100 years. In the late 1800's and into the early 1900's Collies were very popular in both this country and England. There are many artists that specialized in dog art, such as Daws, Kirmse and Van Dyck. However, there were other artists who were not known to specialize in dog art, but who often did scenes with the family dog. More often than not, that dog was a Collie! Several artists such as Arthur Elsley and Fred Morgan specialized in period pieces (Victorian) with men, woman and children. Usually a Collie added a charming touch. Though it has become difficult to find copies of the original prints, many are being reproduced. It can be extremely difficult finding the older prints in good condition, in the original frames. And forget about the original oils unless you happen to be a millionaire! Arthur Elsley has especially become popular in recent years. At a recent auction in England, one of his original oils sold for $150,000 American dollars!
I love artwork featuring the Collie and I own many original pieces.
---
An oil painting of Ch. Southport Sample, done by the renown dog artist F.T. Daws, circa 1910.
Purchased at an auction about 20 years ago, it came from the Geraldine Rockefeller Dodge collection.
An original water color done by English artist, Milton Drinkwater, circa 1910.
An original Marguerite Kirmse etching purchased on eBay about 15 years ago! Circa 1925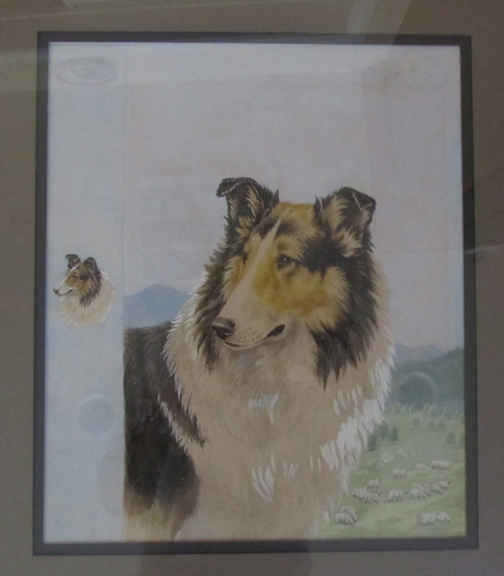 An original Marguerite Kirmse pastel (unsigned). This was the original artwork for the book "Jinx of Jason Valley". It was purchased on eBay. Framed using archival materials.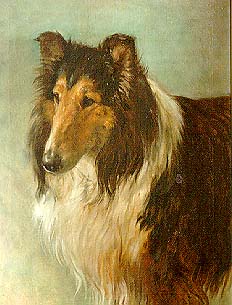 Ch. Seedley Stirling (1916), done by F. Sinet. This oil is at the Dog Museum of America. I took several pictures when I visited the Dog Museum in 1994.
A pastel done by Howard Van Dyck of Ch. Hazeljanes Bright Future, circa 1950. Howard was the son of noted Collie breeder "Van" Dyck of Honeybrook Collies. About 15 years ago, when Future's owner (Hazel Ward) died, her good friend sent me this picture.
"Future" remains to this day, one of the all-time top winning Collies!!
An oil painting of Ch. Laund Lector of Bellhaven done by Howard Van Dyck in 1933. This is one of my favorite pieces of original artwork. Pictures do not do it justice! Purchased about 15 years ago, it has been reframed, repaired, cleaned and restored. It was purchased at a very good bargain because of damage to the canvas. Thanks to excellent restoration, you cannot see any damage.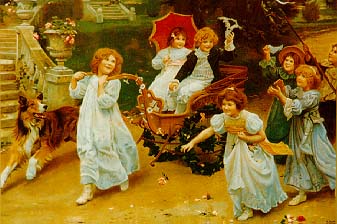 "Royal Procession", a color lithograph done by the English artist, Arthur Elsley (1910). Elsley delighted the world with his pictures of children and animals. He did a lot of pictures with Collies. His prints are among Collie collector's favorites!
"Whose Turn First", by Arthur Elsley - Sepia tone print done in 1910)
"Home Again", by Arthur Elsley - Sepia tone print done in 1910
"Try Again", by Arthur Elsley, a print reproduction.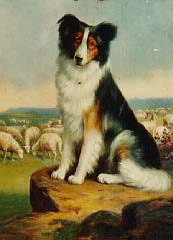 R.A. Fox calendar print. This noted artist owned a Collie and fashioned many of his paintings after him. Unfortunately Fox's work has become highly collectible, driving the prices up for the average collector.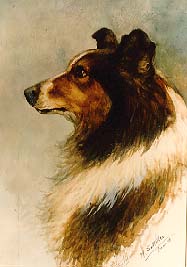 A water color of "Ch. Sefton Hero" done by "listed" American artist Walter Satterlee in 1891. Hero was owned in this country by the wealthy financier, J.P.Morgan. He was the winners dog at the first National Specialty held in 1894. Though the picture is not particuliarly flattering of the dog, it remains a charming momento from the Collie's past.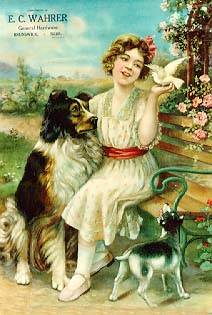 A Calendar print (artist unknown). Variation of the Arthur Elsley print "Her New Love" - Circa 1920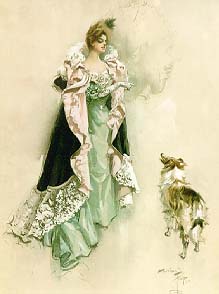 "Final Instructions" by Harrison Fisher 1902
"Little Strangers" by Fred Morgan 1903
---
GO ON TO
Books
| Postcards | Figurines | Stuffed Animals | Lassie
Back to Collecting Page
OR
Back To Chelsea Collies Home Page
---