Eric Mowbray Knight
1897-1943
By Gayle Kaye

---

An oil painting of Eric Knight
By Peter Hurd (Andrew Wyeth's brother-in-law)
---
As most people are aware, it was Eric Knight who created the captivating canine character, "Lassie". Even though he was the author of many fine books, he will always best be remembered for the classic story of a boy and his dog, titled "Lassie Come-Home".
Lassie has been the most endearing and enduring of all the canine stars. The fact that she is still going strong after 60 years, is testament to both her popularity and mass appeal. When Eric Knight created this character in 1938, he couldn't have known that it would be the beginning of a phenomenon that would outlive him by more than 50 years.
Eric Knight was one of those people had he lived a longer life, there's no telling what else he might have accomplished. As it was, his short life of 45 years was rich and full. He was born on April 10, 1897 in Yorkshire, England. His father, a diamond merchant, deserted the family for South Africa when Eric was quite young. His mother remarried an American and eventually settled in this country, where Eric soon joined her at the age of fifteen. He graduated from the Cambridge School of Latin in Massachusetts and also pursued art at the New York National Academy of design. Later he lectured at the University of Iowa. His first love was newspaper work and over the years he worked for several. He started as a copy boy and worked his way up to writing feature articles for the Syndicate Bureau. He was also a respected film critic for the Philadelphia Public Ledger. For a short time, he even dabbled in film writing in Hollywood, where he became a favorite of the legendary filmmaker, Frank Capra. However, his greatest and most over whelming desire was to write a great American novel.
Upon marrying his wife Jere, they settled on a farm in Pennsylvania, where they had many dogs, including Collies. Shortly thereafter, they gave up the farm and the dogs, so they could move to Hollywood, where Eric could pursue a film writing career. They took one small Terrier dog, but shortly after arriving in California, he was hit and killed by a car. To help ease the sorrow, Eric purchased a female Collie puppy that was to be a Christmas gift to his wife. It quickly became apparent that the puppy was to be no one else's dog, but Eric's! The mahogany sable puppy was named "Toots", after the popular song, "Okay Toots". She was not a show Collie, by any stretch of the imagination, but she possessed the traits that Collies have become famous for.....intelligence, love and devotion. Eric spent every spare moment training her and was continually amazed by her intelligence and eagerness to learn. Her repertoire of tricks became famous the country over, while traveling together doing book tours. Eric delighted in showing her off, even stating that she understood many languages, when actually she had been expertly trained in hand signals! The two of them became inseparable. When Eric was away, "Toots" would sit patiently, by the stone wall in the front of their house, awaiting her master's return. Eric obviously felt a great love for this dog and somewhere in the back of his mind, a possible story was already looming, with Toots as the main inspiration. Further inspiration came while on a trip to his English homeland, during the Great Depression. It was a time during which the entire country was enduring hard times, forcing many people to sell their belongings, including beloved dogs. Following his return home, he and Jere relocated to New York and it was here that he actually wrote the story "Lassie Come-Home." It was basically a simple story, combining a dog's love and devotion, with that of the hard times of a Yorkshire family. Much of the story was drawn from his own childhood memories in England. The end result was a beautifully written classic that endures to this day! The short story first appeared in the December 17, 1938 issue of the Saturday Evening Post. It was so popular, that the John C. Winston Publishing Company picked up publication rights. Two years later the book was published and became a popular best seller. Simply put, it was the story of a loyal Collie who crossed hundreds of miles of rugged terrain to return home to the boy she loved. Intertwined with this, was the much bigger story of a family's fall on hard times. The values of honesty, trustworthiness and devotion leap out at you on every page. The story has had immense world wide appeal and has endured all these years, proving the talents of Eric as a gifted story teller! All in all, it has been published in over 25 languages and has remained continuously in print, in various editions throughout the years. Today it is considered a classic.
Coupled with several other perfectly timed events, such as the discovery of an errant Collie named "Pal" and his subsequent training by Rudd Weatherwax, the book led the way for what was to become an overnight sensation. In 1942 MGM purchased the movie rights and the rest is history. The movie "Lassie Come Home" was released in 1943 and was a huge success. It went onto inspire seven other movies, a radio show, a long running television show, countless books and artifacts, and a great love for this dog called Lassie.

Unfortunately, Eric did not live long enough to witness the legend he created. He visited the movie set of "Lassie Come Home" in 1942, where he met the original Lassie, but he never saw the finished product. He was a major in the United States Army and served in two world wars. In 1943, during World War II, he was killed in action while on board a transport plane that crashed in the jungles of Dutch Guiana. At the time, it was one of the worst air disasters in American Aviation History. The true cause remains a mystery!
Eric wrote several other books, such as, "The Happy Land", "Invitation To Life" and "The Flying Yorkshireman". In fact, at the time of his death, "This Above All", was proving to be a best seller. Ironically it probably never occurred to him, that he would forever be remembered for the wonderful story of a young boy and his Collie. It has withstood the test of time and has proven to be his most lasting contribution.
Thanks to Eric Knight, Collies and the character "Lassie" will forever be linked. How very lucky the breed has been, to have such a wonderful influence representing them and we have Eric Knight to thank for it! In 1994, proof of Lassie's positive breed influence came when Eric Knight was admitted to the Collie Club of America Quarter Century Club Hall of Fame!

For more information on Eric Knight's tragic death, please visit Betsy Cowan's (his granddaughter) webpage: CLICK HERE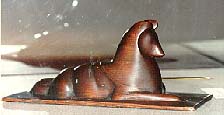 A hand carved Collie done by Eric Knight in 1938
---
Back to the Lassie page
OR
To The Collecting Page
OR
Back To Chelsea Collies Home Page
---