Lassie Collectibles

---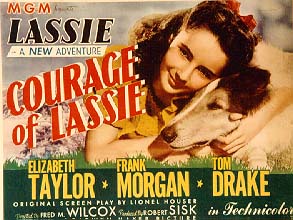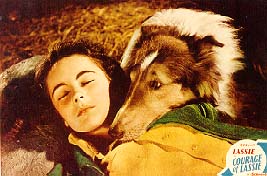 Lassie Movie memorabilia is highly sought after. These two Lobby cards are especially scarce thanks to the Elizabeth Taylor collectors!
Lassie blow-up toys come in many different objects. Others not shown include a beach ball, swim ring and Lassie's 4 foot bone! A punching bag is on the left and a Lassie rider on the right.
A Lassie Cel from the animated Lassie cartoon.
The toy (made of rubber) "Lassie The Wonder Dog" made by Rempel, scarce in it's original display box.
The Lassie Hassock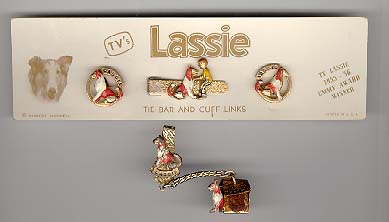 Lassie cufflinks and tie tac. The bottom piece is some sort of clip with a Lassie in a dog house attached. (1955)
The Halloween mask from the scarce Halloween costume made by Collegeville.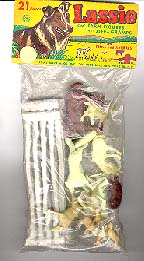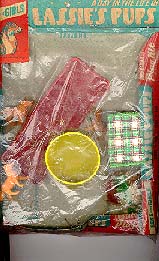 Three scarce toy sets in the original bags. All from the 1950's. From left to right, A Day in the life of Lassie, A Day in the Life of Lassie's Pups and the Lassie Farm set, featuring Lassie, Jeff and Gramps.
---
Return to the Lassie page
OR
Return to Home page of Chelsea Collies